Asian Authentic
Slimming Care X5 Green Diet Detox Weihgt Loss Pills – Box of 30 tablets
Regular price $46.99 | Save $-46.99 (Liquid error (sections/product-template line 232): divided by 0% off)
/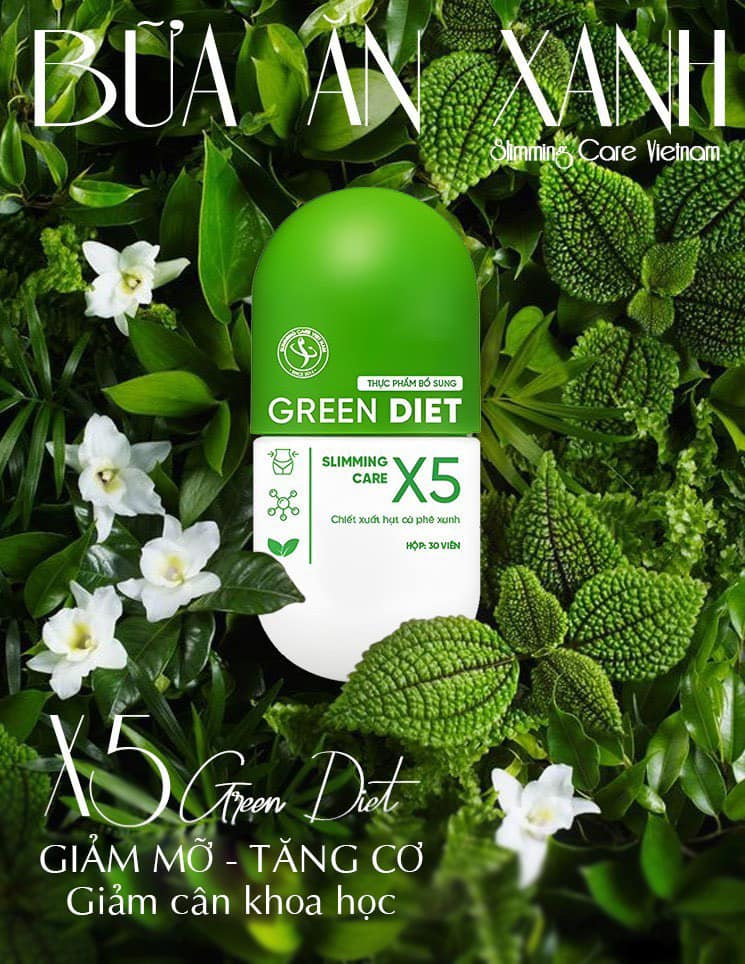 Slimming Care X5 Green Diet is completely different from the previous weight loss support lines that have been on the market, with a new mechanism of action Slimming Care X5 Green Diet promises to bring a completely new experience as well as correctness. Serve even the most demanding customers!
Brand: Slimming Care Vietnam
Origin: Vietnam
Specification: Box of 30 tablets
The new BREAKING upgraded version called Slimming Care X5 Green Diet 'green meal' provides enough energy for a long day without fatigue, brings a source of youthful energy and full of health, helps Losing weight in a scientific way is good for health, heart, and stomach without causing insomnia, dizziness, or constipation.
EFFECTS OF SLIMMING CARE X5 GREEN DIET
» Scientific and effective weight loss support
» Reduce the amount of food tolerated in the body
» Detox the body – eliminate visceral fat
» Lose fat – Gain muscle – Focus on tightening your waistline
SUBJECTS USING SLIMMING CARE X5 GREEN DIET
» Women want to lose weight effectively and safely
» Women who have weak muscles – or are already indifferent to the old weight loss methods can also try this new method to get effective.
WHAT INGREDIENTS IN SLIMMING CARE X5 GREEN DIET?
» Slimming Care X5 Green Diet includes main ingredients such as:
High dried tea: Helps clear heat, detoxify, mix fat, lose weight.
Lotus leaf extract: Helps to stay full for a long time, reduce appetite, reduce belly fat.
Green coffee bean extract: Helps control diabetes, regulate blood pressure, increase blood circulation.
Honeysuckle extract: Helps clear heat, detoxify.
Grapefruit extract: Supports weight loss, regulates cholesterol
Chitosan: has been used in clinical studies for cholesterol reduction and weight loss.
Collagen peptide: Helps to reduce muscle contraction and maintain skin elasticity, thereby preventing the formation of wrinkles.
Vitamin E: Helps skin smooth, youthful, limit wrinkles
Accessories: Capsule shell (gelatin), Anti-caking agent (magnesium stearate), filler just enough for one tablet.
HOW TO USE SLIMMING CARE X5 TABLETS FOR BEST EFFICIENCY
» Take 1 capsule a day before breakfast or the first meal of the day 15-30 minutes.
» After 3-4 days can increase to 02 tablets.
Notes when using:
This food is not a medicine, it is not a substitute for medicine.
Do not use Slimming Care X5 Green Diet for pregnant women, nursing mothers under 3 months old, people with high blood pressure, a history of cardiovascular disease, liver or kidney failure, hypersensitivity to any ingredient of the product. Products.
People who are taking medication should consult a medical professional before using Slimming Care X5 Green Diet products.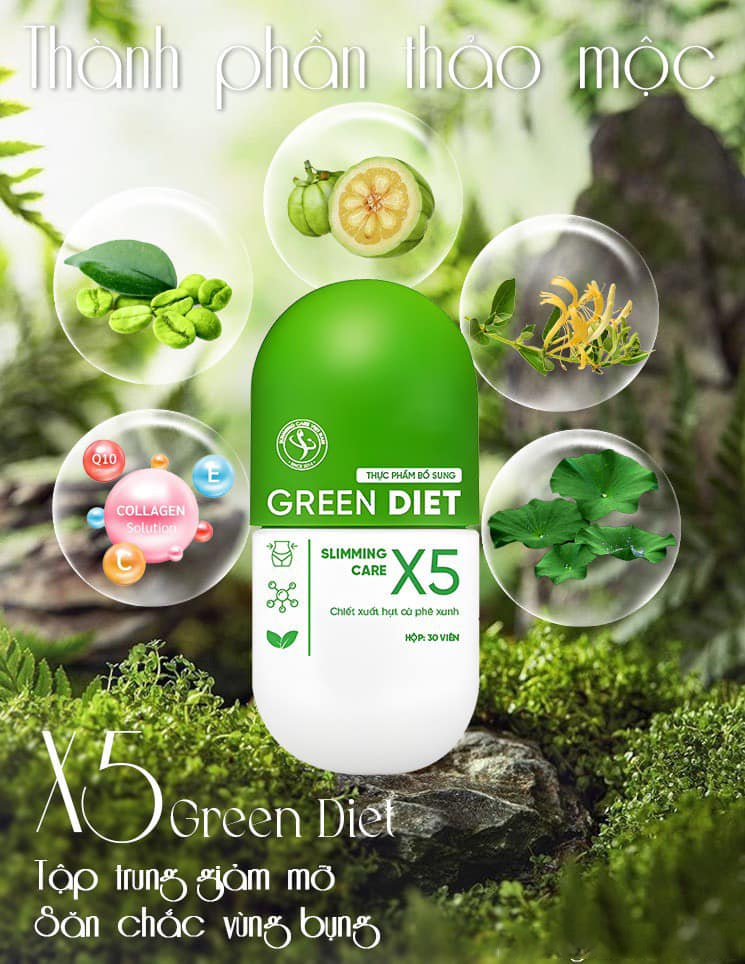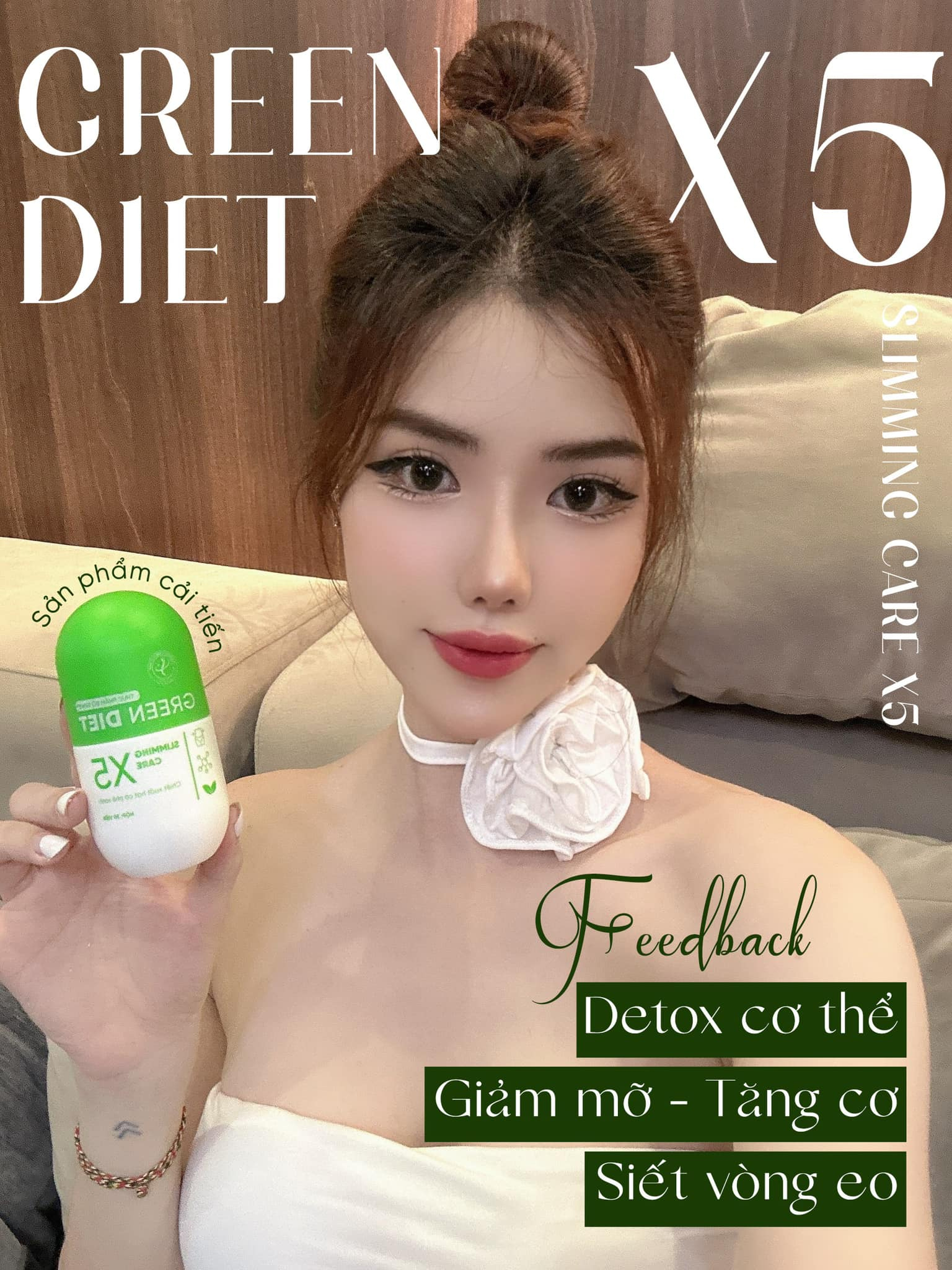 Free shipping in the US for orders over $85Free return for any reason.Item can be returned in its original condition within 30 days of receipt.Policy: https://asian-authentic.com/policies/refund-policy
The products sold by Asian Authentic are not intended to diagnose, treat, cure, or prevent any disease. If you have a medical condition, are taking medication, or are pregnant or nursing, please consult with your healthcare provider, including a doctor, before using any of our products.

Please do not exceed the recommended dose of any product, and keep them out of reach of children. Some of our products may contain natural ingredients that can cause allergic reactions in some individuals, so please read the label and follow the directions for use carefully. Results may vary from person to person.

Asian Authentic is not responsible for any misuse or abuse of our products. These statements have not been evaluated by the Food and Drug Administration.
Related Products
Check out our recommended products for you!
Recently Viewed Products
You can stop autoplay, increase/decrease aniamtion speed and number of grid to show and products from store admin.